It's A Knock Out!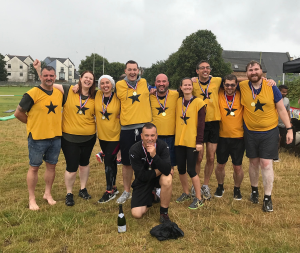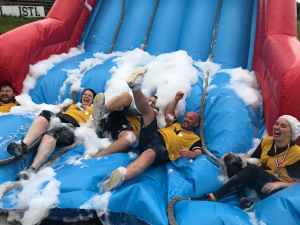 Our summer events are always one to remember, this year's especially. We are always trying to up our game with engagement events and this year has really topped the list.
To start the day we had a guest speaker Ben Naughton-Rumbo from Growth Tribe, who spoke to us about the importance of experimenting and trying new things within business. It gave us a lot to think about in terms of Growth Hacking and how we constantly need to try to break the mould to reap the rewards.
We then all got together and enjoyed an exceptional buffet from Kate's Kitchen with an array of Mediterranean salads, bruschetta and of course, everyone's favourite Domino's Pizza.
Following on from that we headed over to It's A Knock Out. We may have picked one of the rainiest days of the summer but that did not stop us! From dressing up as giants, climbing soapy summits and some questionable time riding giant sausages it was one we will not be forgetting any time soon. And plenty of people who won't let each other forget…
However, don't take our word for it, here are some of our employees own words on how the day went –
"Wish we could do it all over again! Every company needs to do this, it was so much fun getting involved and speaking to people I wouldn't normally see!"
"So great to see everyone from each department having fun together"
"The Creditsafe Summer 'its a knockout' event had a hugely positive impact. Seeing members of different teams and departments throwing themselves into the event and forming new friendships and working relationships reinforced the value of holding such events. I really enjoyed the event personally and got a far better understanding of the people I work with"
After the day's activities it was time for a well-earned break in the evening. We went with that old classic of Curry and Karaoke! With drink tokens firmly in hand we had a great time watching some …interesting renditions of our favourite songs. It was the perfect way to round up a full day enjoying each other's company.
All in all, these days are organised for our staff to allow them to enjoy themselves and to socialise with other staff members they may not necessarily interact with on a day to day basis.
Employee satisfaction is key in any company and most certainly in ours. We are always trying to create a fun working environment and this is one of many things we have in place to do that.